Meeting Room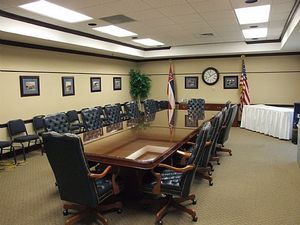 Separate from the convention hall, Landers Center offers 3 separate meeting rooms and one professionally designed board room

If you are looking for a more private atmosphere, we have something to offer you as well.
Landers Center contains 3 meeting rooms and one board room. Separate from the convention hall, these rooms offer a more intimate atmosphere, with professional surroundings, sure to meet your wants and needs.
The board room consists of a conference table capable of seating up to 30 people.
For booking information, please contact:
Matt Hatch, Director of Events at mhatch@landerscenter.com
Joel Crews, Director of Events at jcrews@landerscenter.com
Jay Snipes, Event Coordinator at jsnipes@landerscenter.com
© 2017 DeSoto County CVB. All rights reserved.